Embracing our curiosity
Launching our podcast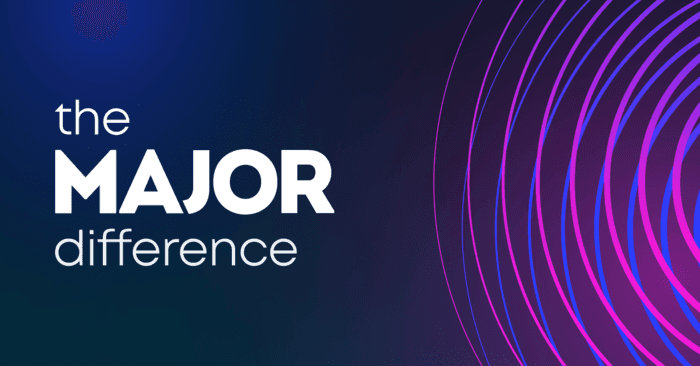 The MAJOR Difference
After years of talking about it and around six months of prep and planning, we finally launched our own podcast - The MAJOR Difference.
It's been an equally educational and exciting journey so far, filled with challenges, resolutions and plenty of curiosity.
Whether it be identifying, researching and booking guests, inevitable scheduling conflicts, establishing an editing and review process for both the audio and transcript, curating insightful and interesting questions, or even the occasional tech hiccup, we've learnt so much these past few months.
Our first season - focusing on Positive Impact - will draw to a close in the coming weeks with our final guest episode launching next week, ahead of a MAJOR roundtable a few weeks after that reviewing the season.
It's been humbling to have some amazing guests trust us to take part in our inaugural season and we're committed to delivering an insightful and enjoyable episode with each and every one of our guests.
Tackling topics from AI, to diversity and inclusivity, to eco-economics, it quenches our restless thirst for knowledge.
Oh, and we're already hard at work planning our next season (and subsequent seasons after that).
If you want to take a listen, head over to majordigital.com/podcast where all of the episodes are listed - as well as dedicated pages for each season and episode.
If you have any feedback we'd always love to hear it - likewise if there are any particular topics you'd like to see covered it may help inform future seasons.
– Davs Howard, Technical Director.
Did you know?
We have 5 episodes of the podcast already out. 
The episodes are:
Recent problems we solved

How we created brand synergy for a transport technology plc
A brand alignment project often becomes necessary when rapid growth through mergers and acquisitions challenges brand consistency. Tracsis PLC faced such a challenge, with a growing brand portfolio with highly individual identities.
Our latest knowledge posts
Did you know?
People are 50% less likely to leave a job if they feel included (reports a study by BetterUp) and a McKinsey study found that diverse and inclusive companies are 35% more likely to outperform their less diverse counterparts financially. 
You can read more about the transformative power of inclusivity and diversity on employee experience here.
What we've read
The UK government has launched a new website - UK Business Climate Hub - which focuses on supporting businesses with resources and information on how to reduce energy costs and CO₂ emissions.

The draft report of the W3C's Web Sustainability Guidelines (WSG) has been published - marking a vital milestone for the sustainability of the web.
Tell us what you want
One of the best ways we can make sure the content we put out is useful is to hear from you.
If there's anything you would like to ask us, to know or are interested in our expert take on, we'll make sure to cover it either in the next edition of this newsletter or on one of our social channels.
Just reach out at hello@majordigital.com.